Website Design – Creatively Unique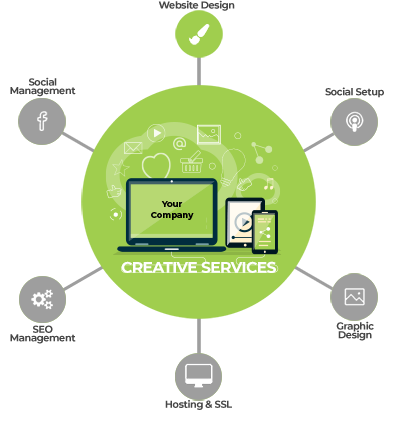 Overview
Having a website is necessary in today's competitive world.  But that site has to capture interest, be pleasing to the eye, and represent your brand.
Stand Out From the Crowd
It has been said that a company without a website won't last long.  Now, when everyone including the kid with the lemonade stand down the street has a site, you have to do more.  You have to have a website that rises above the others so that you're not lost in the shuffle.
You need a website that is clean, easy to read, and most importantly turns visitors into customers.
What Should a Great Website Include?
You know a bad website when you see one.  Overloaded with information, slow to load, big blocks of text that are hard to break apart.  It's like reading a text book!  But what will your new website include?
When a potential client lands on your page, you have a matter of a few seconds to get them to stay.  A clean and easy to read site hooks your clients and draws them in deeper.
Once you have broken past that initial apprehension, you can show off a little bit.
SAM Websites Are Top-of-the-Line
From high quality photography, to HD video, to compelling copy, a website from Social Agent Marketing is exactly what your business needs.  In today's digital world, you need something that is going to be:
Fast! Optimum loading speeds built into every site.
Google can find your site and bring clients to you.
We code; we don't drag and drop.
Whether viewed on a phone a desktop, or somewhere in between it looks great.
Custom written for you, not stock used for many.
Google makes as many as 1000 algorithm changes per year.
Form submission capabilities and many more options available.
Turn more visitors into customers or clients.
What's the Other Option?
There are ways that you can create your own website.  In the end, you spend hours working on a site that works, but it's not quite what you want.  Then, as technology and algorithms change, it quickly becomes outdated and you have to build it all again.
You spend all of your time designing and building a website, with no time left to run your business.
Grow Your Business with Social Agent Marketing
You chose your profession, honed your skills, and you are great at what you do.  Don't sacrifice that to learn how to build a website.
SAM websites use a sophisticated central platform to curate and distribute rich content automatically to your social sites resulting in lead generation.  Leads, after all, are what drive your business.
Let us create a site that shows off who you are, and brings clients right to you.