Social Management- Keeping You Current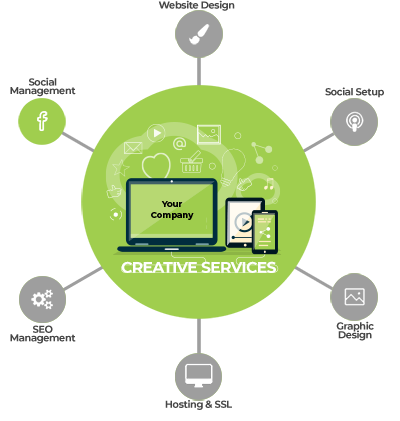 Overview
Most of today's internet users are on at least one social media site.  If you're not meeting them there, are you maximizing your online presence?
Digital Sponsored Marketing
Internet users spend a lot of time on sites that are outside of social media as well.  Getting your brand in front of them keeps you top-of-mind growing the number of leads you receive.
You have to be on social media, but you also have to be active on social media.  If questions, comments, and messages go unheeded, customers may think you're no longer in business.
Engaging with Prospects on Social Media
Social Media is where most people spend their time online.  It ranges from viewing user uploaded videos on YouTube, to posting pictures on Instagram, or viewing status updates on Facebook.  As more people get involved with being these, more time will be spent there.  It's precisely why you have to be where the prospects are, so that when they need your services you get the call.
Social media can be hard to use.  No, it's not because uploading a picture, tagging people, and inserting hashtags is tough; it's because it takes a lot of time.  Time that you probably don't want to worry about when you're running a business that is thriving.
Social Interaction with Clients
Think about the popular Facebook pages that you see regularly when you scroll through your newsfeed.  They are updated with high quality content, they are actively engaged with followers, and they don't let messages or questions go unanswered for more than a short period of time.
Imagine how well received you would be if you had the time to manage your social media pages like that?  Users on those platforms would know who you are, what your business was, and they would be comfortable asking questions because you are seen as the expert in the industry.
Maintaining Trust with Clients
The problem lies in having time to do all of that.  Unless you have a social media staff person, you aren't able to constantly be updating.  You don't have time to respond to questions and comments.  And too often social pages go without an update for days.  Then weeks.  Then months.
When your social media pages aren't updated regularly, and when people aren't responded to in a timely manner, the trust breaks down.  Prospects buy from people they like and trust; when the trust leaves, so does the prospect.
SAM Creates a Vibrant Social Presence
You're a busy professional that doesn't need to spend time managing social media sites.  That is precisely why we are here.  We streamline your online presence, including managing these sites for you, so that you can focus on what you do best.
Ready to have a vibrant social presence?  Then Social Agent Marketing is for you.